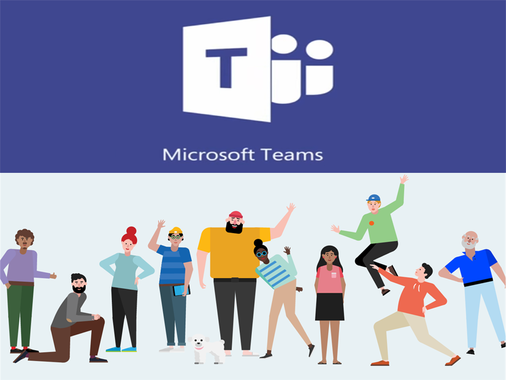 Microsoft Teams is now available for O 365 Users and a lot is being talked about, from Slack comparison to its features and how / when to use it. I was under the dilemma like most users on how to get started with it and when to use it? If all of what is said, is available in Teams then why do we have Yammer, Outlook, Delve, SharePoint Intranet, OneDrive, etc.
I have broken down this post in to two and here is the first part which actually lets you do the planning. After doing a bit of research and playing around with it, i was able to come up with the following:
– O 365 Package
– Exchange & SharePoint Hybrid or Online
The two above will help you in starting the conversation on Teams in the right direction.
Questions you should ask your customers or internally in the organization to layout the path for using Microsoft Teams.
PLANNING
What initial teams and channels do you want to create for Microsoft TEAMS pilot?

What team members do you want to add to each Team and Channel?

Are there any restrictions preventing users from installing the appropriate Microsoft Teams client on their devices?
Yes, some organizations have strict policies when it comes to installing software and in case of Microsoft Teams you will be required to have Admin rights when installing the client on MAC.
What is your organization's plan for Microsoft Teams onboarding across the organization? (Pilot or Open)
If onboarding via a closed Pilot, decide if you would like to do so via licensing, or targeted communication. Depending on decision, take steps to make sure only Pilot users who are allowed to access Microsoft Teams (if needed). Document the guidelines for which users who will (or will not) have access to Microsoft Teams.
What settings for Microsoft Teams will your organization enable?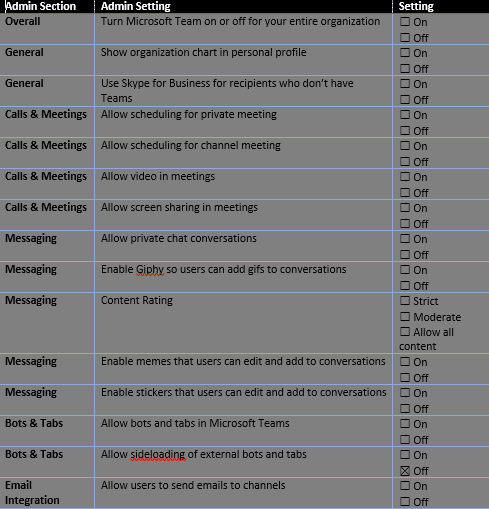 Will all Microsoft Teams users be able to create Teams (recommended)?
Modify the default permissions for who can create O365 Groups if you need to limit who can create Teams.
Have you evaluated your network capabilities for supporting real time media? If your network has not been properly assessed, or you know it will not support real time media, will you disable video and screen sharing capabilities to reduce network impact and poor Teams experiences?
Network Quality Unknown: Follow the Network Readiness Assessment guidance at skypeoperationsframework.com to determine if your network is ready for Real Time Media.
Network Quality Poor: Perform network remediation steps to provide a proper environment for high quality Real Time Media
Network Satisfactory: Ensure all IP addresses and ports are properly accessible
What security and compliance features does your organization require?

Does your organization have the required licenses to meet Compliance and Security business requirements?
Review your organizations current licensing and confirm it meets all business requirements for compliance and security.
Would you develop a plan to raise the awareness about Skype for Business interoperability in Microsoft Teams?
Document the approach your organization will take regarding end user notification around Skype and Microsoft Teams interoperability.
Some other Questions
What is your change management strategy?
How has your organization handled change management for other technology rollouts?
Who are your executive sponsors, champions, Service Owners/IT Admins that will influence how successful Teams is in your organization?
Who will be your pilot group?
Once you have the answer to above then:
Establish a change management and adoption strategy for Microsoft Teams using the best practices. Introduce the champions, team leaders to your strategy, the Customer Success Kit and the Getting Started Guides to begin building the internal team of champions for Microsoft Teams.