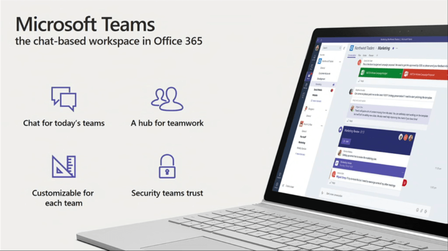 Assuming that you have read the previous post and have completed your initial planning for Microsoft Teams – now its time to focus towards concepts and usage scenarios. We will come to the implementation phase as well and in a way we are already doing it, one step at a time.
This post will be more focused and relevant to the following :
Project Manager
Business Analyst
Technical Architect
IT Admin
Power Users
​The plan is to implement Microsoft Teams, which brings chat-based workspace in Office 365 where users have a open space office environment to have conversations and collaborate with each other while building relationships.
One of the first question which comes to mind is, we are already doing it with Outlook, SharePoint, Yammer, etc so why do we need Microsoft Teams?
Below is a simple breakdown of how most organizations actually use all these applications and where does Microsoft Teams fit in.
Outlook: Outlook is used for enterprise-grade email which now has groups functionality

Leveraged by users who prefer to collaborate in the familiar environment of email and/or a more formal, structured manner.
Provides specific business processes that require email usage to transmit documents and information inside and outside corporate boundaries.
Communicates and connects with users who are outside of immediate workgroups or organizations
SharePoint: SharePoint is used for sites and portals, intelligent content services, business process automation and enterprise search.

Leveraged for sites and portals (e.g. company news & announcements, search and document collaboration).
Implements business process automation on document libraries and lists of information by integrating Microsoft Flow and PowerApps.
Full-powered SharePoint team site automatically provisioned for every Microsoft Team for file storage, team news, pages, lists and more.
Yammer: Yammer is used to drive company-wide connections and is best suited for organizations which have more then 300 people. (IMO)

Leveraged to help connect users across the organization to organize around communities of practice and share best practices
Improves cross-functional workflows through an open and transparent feed-based platform
Fosters executive-employee engagement with two-way conversations between leadership and the wider employee base
Ignites your frontline workforce to share and receive knowledge and expertise
Skype for Business is the backbone for enterprise voice and video

Leveraged for real-time communication and collaboration both internally and externally with customers/partners.
Provides meetings with audio, video and content with small or large teams (including Town Halls with up to 10,000 participants).
Offers enterprise telephony functionality.
Microsoft Teams: is a simple to use chat-based workspace where you can create different Channels to organize conversations. You can set up your channels however you like – by topic, discipline, project or even just for a healthy social chat. Channels are open to everyone on the team, so everyone on the team can see the discussions and shared documents within a channel. Moreover, you have Tabs to let you set up your channels with the tools and services your team needs. Files and notes are built in, and you can add your own tabs for additional tools like PowerPoint presentations, Power BI reports or SharePoint sites for the team to access, discuss and collaborate on – all within the channel.

Leveraged by users and teams who are looking to collaborate in real-time with the same group of people.
Helps teams looking to iterate quickly on a project while sharing files and collaborating on shared deliverables.
Allows Users looking to connect a wide range of tools into their workspace (such as Planner, Power BI, GitHub, etc.)
It all depends on how your organization is structured and how the collaboration and activity data flows
Things to Remember
Teams are a collection of people, content, and tools surrounding different projects and jobs within an organization.

Teams can be created to be private to only invited users.
Teams can also be created to be public and open and anyone within the organization can join (up to 999 members).

Channels are dedicated sections within a team to keep conversations organized by specific topics, projects, disciplines—whatever works for your team!

Team channels are places where everyone on the team can openly have conversations. Private chats are only visible to those people in the chat.
Channels can be extended with Tabs, Connectors, and Bots.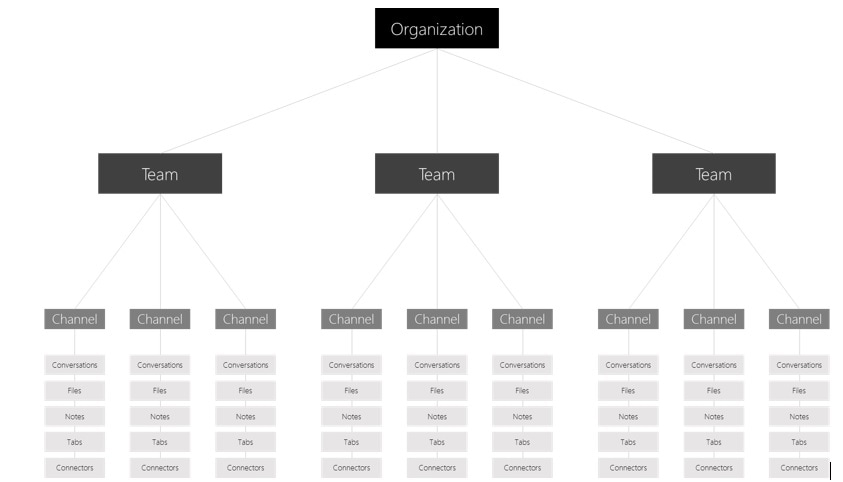 TEAM AND CHANNEL SETUP
TYPE OF TEAM
CHANNELS
TABS
Sales
Annual Sales Meeting
Quarterly Business Review
Monthly Sales Pipeline Review
Sales Playbook
Power BI
Trelio
CRM
Finance
​Current Fiscal
FY Planning
Forecasting
Accounts Receivable
Accounts Payable
Power BI
Google Analytics
Product Team
​Strategy
Marketing
Sales
Operations
Insights
Service & Support
Power BI
Team Services
HR
​Talent Management
Recruiting
Performance Review Planning
Morale
HR Tools
External Job Posting Sites
ORGANIZING TEAMS
Some key points when you are organizing teams to use Microsoft Teams: (Funny way to say it)
– Set up more then ONE owner for the Team
– It would be a good idea to revisit the Roles and Permissions matrix you already have for Users
– Always start with a small group and then add more people as adoption picks up
– Do not create to many Teams because you will end up having same members
– Do not make it a News / Announcements place because you have Intranet Portal and Outlook for it
– Do not forget to post the purpose in the General Channel so that everyone stays focused
So now it would be best that you start using Microsoft Teams for your pilot launch and use it firsthand to gain more insights.

In the next post i will purely focus on implementation checklist items and i hope i get enough time to cover each and every aspect.