​We all know by now that we can invite guests in Microsoft Teams if the settings are in place. Well, that depends on how settings are configured in your tenant.
As you can see that guest access is enabled in Microsoft Teams Admin Portal. And, yes, this setting has been enabled for several weeks.

​When Teams owners or members invite guests from public Teams, they get this message:

​Teams owners share the same experience as the image above when trying to invite guests from private Teams.
The Root Cause
External sharing settings in Azure Active Directory. If you want to give the ability for your Teams owners and members to invite guests, your tenant must be configured to allow users to invite guests. This setting is configured in Azure Active Directory.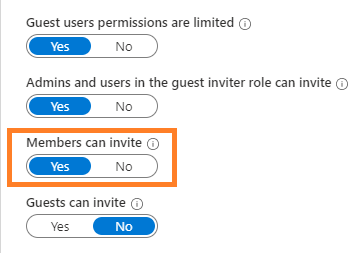 ​In my testing, the table below summarizes different user experiences depending on how Azure AD is configured.
Hope this resolves the issue of Guest Access on Microsoft Teams for you as well.