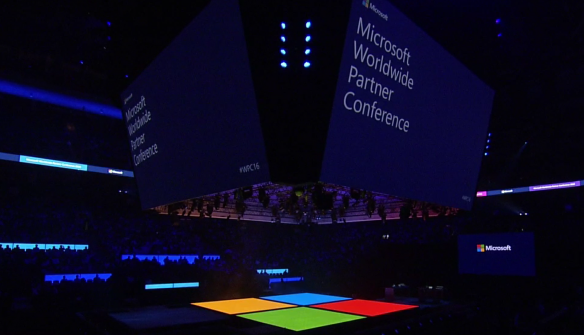 Day 2 at WPC was exciting and fun due to some cool stuff Microsoft shared with us. I had a hard time getting up in the morning and was able to make it just before the session started but again at our booth #234 🙂 watched it live once again.
Below are my notes on Day 2.
– The giant is taking some big steps towards Security and Compliance – meaning O 365 and Azure will be super secured for Enterprises. If you have been working closely in Public Sector and in BFSI, now you got some stuff to show these guys which will calm their nerves and will not come up with scenarios of IF and BUT on Security.
Of course AWS is not so big as Azure now with a presence of 34 regions. Now its just a question of Adoption and Partners taking big steps towards the transitional phase.
– The Productivity Landscape is Changing Rapidly: think about teams and how they work and possibly how we (Partners) can come up with productivity solutions for the workforce / workplace. Don't forget the devices and the data part which is changing the landscape through insights, prediction, analytics and intelligent improvements.
– Windows 10 & The Cloud: Really !!! Yup folks Windows 10 is coming to the Cloud. Some where by end of fall we will have Windows 10 subscription through CSP partner program and the offering will start from just $7 a seat per month. I bet Windows 10 will change a lot of stuff and looking forward to the Ignite conference to learn more about it.
Ahh the cool stuff, fingerprints and face recognition to login to sites.
– App Source: As i mentioned yesterday, this is an area where Microsoft tends to focus heavily and is pushing partners towards it. Now customers can use the App Source marketplace to find business applications that meet their needs. As a Partner it takes a maximum of 15 minutes for you to list an APP on it – if you start everything from the scratch.
– Surface Oh Surface: Makes me wonder if i should buy the new Surface Pro 4 🙂
SaaS but not Software as a Service but now we are going to have Surface as a Service, Yes and it's going to be a managed service offering through CSPs.
​
Looking forward to meeting more competitors, partners and potential clients at our booth #234 tomorrow. Indeed, its tiring and fun at the same time because you get to learn so much and a chance to share your experience to make others ambitions possible !!!