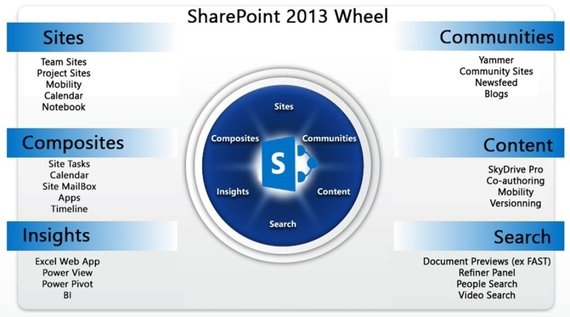 It's been quite some time I didn't get a chance to write about SharePoint and its implementation. Recently I saw a lot of people asking on LinkedIn Groups if SharePoint implementation should be handled by Business OR IT. At times it amazes me to see the replies and how we look at this platform with our small vision.
In my humble opinion, when an organization decides to move forward with SharePoint – they need to know that SharePoint implementation starts from that day itself and the first step is to realize what the word SHAREPOINT means (Share and Collaborate).
​
It's time for the business and IT to share and collaborate to make it a success, otherwise it won't work and you can keep on blaming either one of them. Usually IT decides the technology and business users wait to adopt it. In my observation, if the system integrator holds a few sessions with both (IT / Business) and explain them how SharePoint works and talk about Governance Plan – things can be made very easy. This is the second step for a successful implementation of SharePoint because it will engage both IT and Business Users to have a more solid understanding of what they are about to use.
Majority doesn't care about the above and at some places it becomes a one sided game – either business goes and does everything or the IT. Most of these kinda implementations don't go smooth and plenty of people get frustrated with the whole process.
Now this leaves us to another question: User Adoption for a Successful SharePoint Implementation
Goal for SharePoint: It's extremely critical for any organization to have a smooth SharePoint implementation and User Adoption to have a clear Executive Managements go ahead. You need to facilitate meetings with Executive Management so they can assist you define what role SharePoint will play in the organization. The Users need to understand the goals and expectations of the Executive Management in order to build more focused solutions using the tools SharePoint provides. In simple words – it gives license to use the platform and learn the features.
If you miss this catalyst then nothing will work out for you and everything will go to the bin.
Users already know about SharePoint: What we the IT Geeks need to understand is that most of the Users are already familiar with the name and functionalities of SharePoint. They have probably heard about it through different sources and watched a few videos on YouTube. We just need to frame the conversation on the capabilities of SharePoint which in most cases far exceed the normal requirements a user is accustomed to in a software solution. Moreover we need to emphasize on SharePoint as a Platform rather than a software which needs to be installed, configured once and that's it. SharePoint implementation and adoption can be frustrating if this message is not properly put through the User Community and it can put them off with its complexities and configurations.
Engage, Plan and Gather the Requirements
Not Everyone Likes Change: Most people don't enjoy change and certainly don't easily embrace change when it comes to the way they have been performing their work. By some it is seen as evil and it should be avoided at all costs, even if they know that the current procedure and process is dysfunctional. They are the tough nuts you have to work closely, to break them and accept the new change. Be ready to face a lot of criticism about the previous enhanced systems which were put in place to reduce workload and increase efficiency. When you will help these people understand the platform and assist them to map SharePoint to their work, you can slowly overcome the resistance. DON'T SAY THAT THIS IS HOW IT'S GOING TO BE FROM NOW ON. Try to address the concerns and help them in whatever way possible, educate them but do not force them.
If SharePoint Replaces an Existing System: It should be part of your training and communication plan to explain Users why it's been replaced by SharePoint. Answer all questions raised by your Users so that any negativity is removed and adoption becomes a more smooth process.
Don't Overdo the SharePoint Thing: Your users have already read and heard about "We are transforming our organization through WorkFlows and Collaboration". They already know what happened to the CRM solution which was rolled out a few months back and now no one uses it. In any organization not everyone is willing to share all their contact information and reconciling it against the contact lists of their peers? Ohh and the great ERP system which keeps on getting rolled out after every three months and still most of the departments are not happy with it. You need to help the users avoid negative feelings about SharePoint rollout by metering the rollout of its capabilities.
Slow and steady wins the race – remember this and keep a glass of water near you because you will need it a lot of times to cool yourself down.
In your implementation Plan mark the four or five features which are most requested by the business users as Phase 1 of the Project. Try to avoid them giving everything SharePoint has to offer in one go, let them play with it, get used to it and then let them request for new features which you can roll out in Phase 2.
Focus on quality over quantity
I have learned this through experience that most successful SharePoint Deployments take the course of several months and best would be to first let your users get accustomed with DMS, Lists and Libraries, then workflows, MySites, etc
Governance: Usually we think of Governance as
" Lets restrict the access and then have our users request for it"
Do you remember what parents say "I want you to have fun and explore the world but when I say watch out for a particular thing – Trust, I have your best interest in mind"
​Governance actually means setting boundaries and levels which will ensure SharePoint to Grow its roots to every user. Have you noticed that some Users build fantastic sites (meaning they are allowed to use SharePoint Designer) which helps the team to adopt the SharePoint Collaboration mindset and change their mode of work. When Users are able to create their own business solutions – they address a teams's unique and specific needs directly.
But don't forget about Governance in the name of creativity – You might be the one calling a SharePoint Consultant in a panic wanting Governance and Taxonomy discussion to happen the next morning.
​
SharePoint Vs HRIS / ERP / CRM: SharePoint comes with so many capabilities that a User can easily become confused with other systems and start questioning why can't we have everything in one? This confusion frequently derails even the best of SharePoint adoption initiatives and if someone builds a Contact Management Solution which competes with the existing CRM System – you will need to help them understand which system they should use when capturing contact information.
​You also need to engage the Content Owners to socialize this information with their Department's users so that the message is correctly and consistently reinforced.
​
Train Your Users: Training is a critical step in this whole process of getting your Users in to the Collaboration mindset. Don't just conduct a few trainings with some basic know how, try to focus on how you are going to get your Users beyond what they already learned about SharePoint.
"Remember that Users will only retain 35% to 40% of what you have presented so your game plan should be to give them at least 60% in three or four stages. It's not a 100 yard sprint but a marathon."
A good way to do that would be creating videos about different SharePoint capabilities like Version Control, Exporting a List Contents to Excel, Add HTML Code in the Content Editor Web Part, etc. Some of us might think that Users simply won't care about the IT's Disaster Recovery and Backup Plans for SharePoint – in reality they do care about it but they don't realize the impact it's going to cause and they are unable to raise these concerns. Best way would be to train them and share your plans for Disaster Recovery and Back up so that they have more confidence in storing the business critical data on it without any excuse.
Technology is not the only success but Communication is the real success
With Training Comes Responsibility – Handoff SharePoint to the User: IT's involvement after a deployment should move to training and gradually from daily involvement to weekly. This will give you time to ponder on the Strategic Planning of rolling out new features.
"Don't think that your Users won't be able to manage it and who will convert a list to XSLT format?"
Give them time and training, open up the more powerful capabilities of SharePoint to those who you feel are grasping the platforms power and you will be astonished to see the solutions they will built on it. You can also speak with the management of your organization and include SharePoint Content Owner Responsibilities in the Job Description of the Users. By doing so you are ensuring that this learning and experimentation becomes part of the work they are responsible for. Without this focus it would be difficult to have SharePoint reach the adoption level that you require.
In other words you will be creating a User Community which will be willing to handle SharePoint and come up with solutions. This will work to create a culture of community and support within your company. The IT Department will participate to provide Governance, Guidance, Education and act as a Subject Matter Expert on SharePoint.
​
Mark the Maturity Level: It's quite a simple thing to do and you just need to mark the Level of Maturity your Users sit in after every few months. For example
Level 1 – Document Management & Storage
Level 2 – Information & Content Creation
Level 3 – Leveraging to Resolve Business Challenges
Level 4 – Sharing & Collaboration
Level 5 – WorkFlows & Process Improvements
​
OK I need to stop here otherwise I might end up writing a book about SharePoint implementations and User Adoption. I believe I have covered the most critical factors on which User Adoption is based and remember that your Users need to feel comfortable within the environment. There is no magic when it comes to User Adoption and not every department in your organization will adopt it at the same pace but you must foster your Users Adoption for SharePoint.