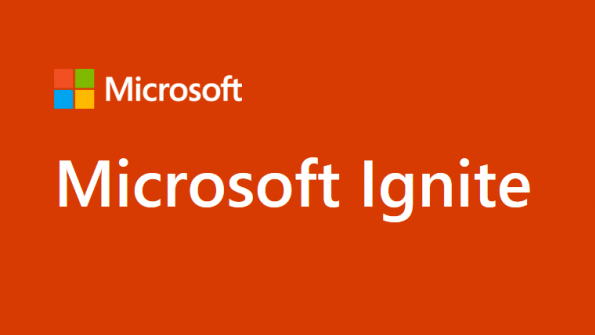 As usual I am late, I think I am getting used to it with updates and news flowing in from all directions – it's hard to keep a track of stuff and post about it. Just came back after a week of learning from Sitecore Symposium in Las Vegas and thought about writing something on it, opened the To Do App and found that I need to first finish this piece before I jump on Sitecore.
Microsoft Ignite happened last month with a lot of WOW factor and I can also see some IT Pros even questioning the Wow now, particularly the guys still using SharePoint on Premise. It's common to have two sides, the first is always about how cool it is and this will be a game changer but sadly the second is more of complains and the learning curve about how to get it right under the current circumstances. (It's a pain to adjust business processes with updates if not properly planned and thought)
​
Let's jump in to what was shared with us during the SharePoint Ignite 2017 sessions and try to constructively look at each one of them.
SharePoint Search
SHAREPOINT SEARCH
Personalized search and an awesome looking UI / UX is coming to SharePoint Online Search. Now search will be smarter and faster to use, and will surface more relevant results from across Office 365. Search results will be personalized for you by the Microsoft Graph with insight from the people, sites and documents you work with, and ranks search results relevant to your needs. The search experience has been redesigned and streamlined to make it easier to find and filter results, and results will now include list items everywhere, not just the results in the enterprise search center, so all content in a SharePoint site is now included.​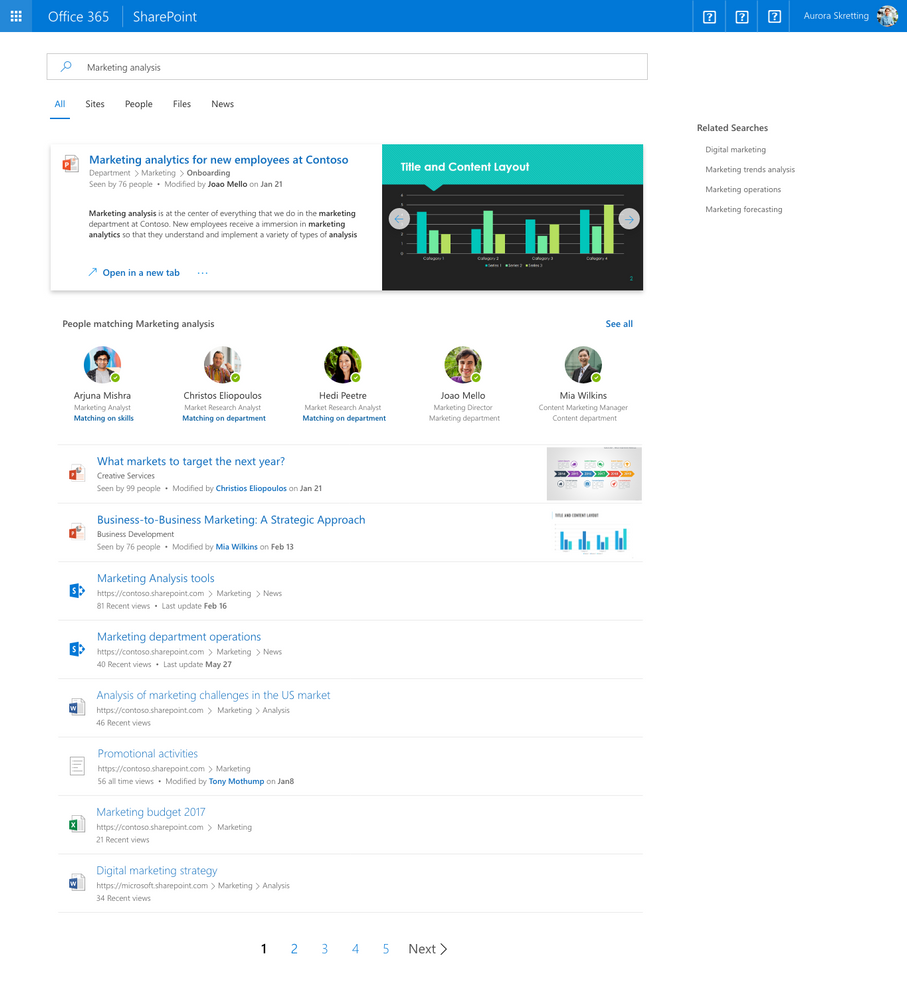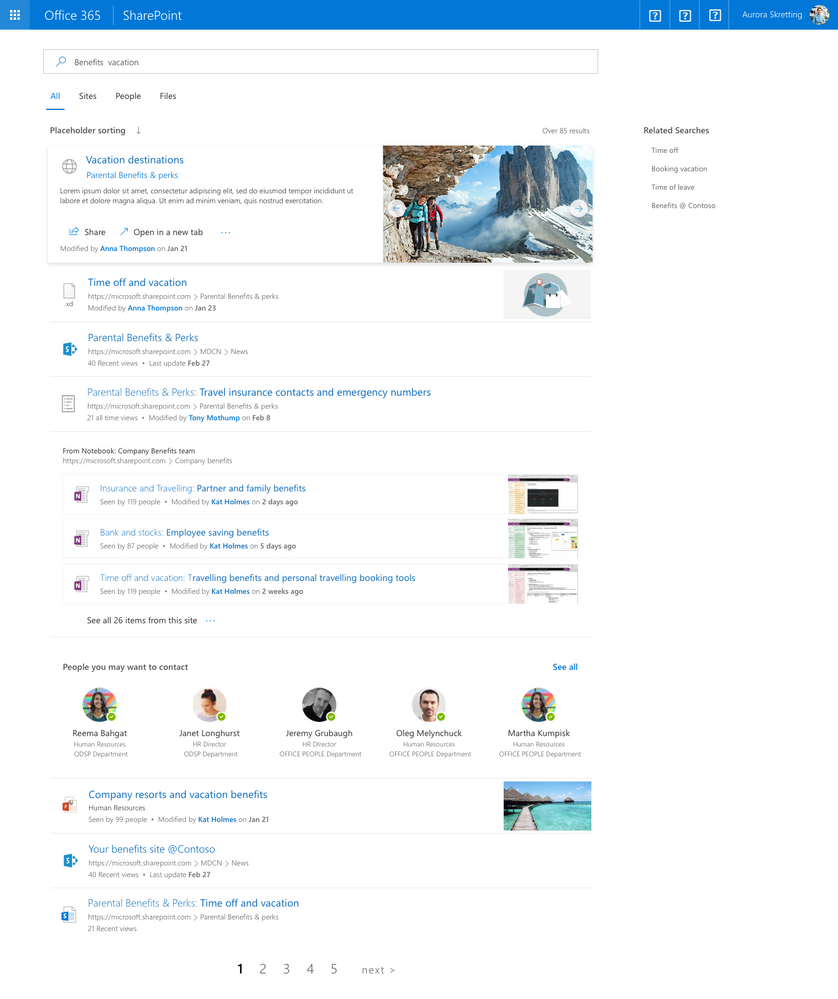 When you upload an image into OneDrive or SharePoint, whether a snap of a whiteboard, a business card, a receipt, a screen shot, a vector graphic, line drawing or even x-ray film, it will automatically detect it, and make it available in search, without you having to do anything other than upload the image. Microsoft says that they are using  intelligent services behind the scenes, so your search experience doesn't change in OneDrive or SharePoint. 
If you go to office.com, you'll see a beautiful new experience, optimized to help you discover relevant documents in your intranet. It will show you most recently used content, sites and folders by offering personalized search across Office 365.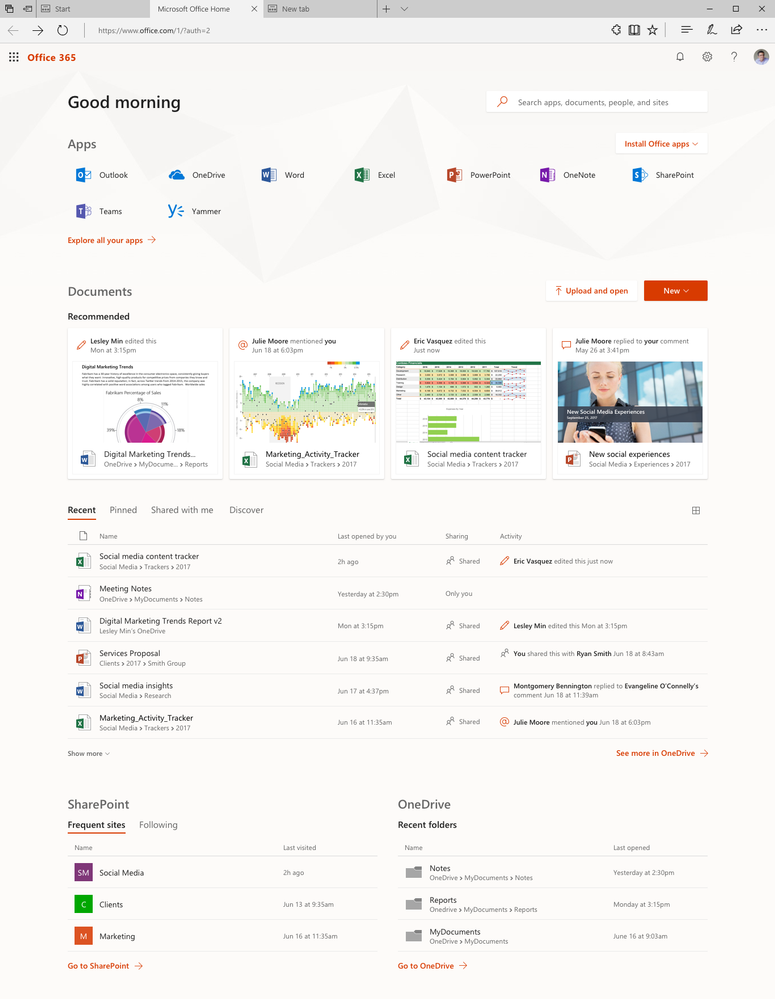 ​However some striking questions which remain a mystery are if the metadata would be allowed to refine the results and what if we would like to rank the results? One more important question is related to the OCR, is it going to be available for PDF file formats?  Some secrets which Microsoft wants us to wait for.
SharePoint Hub Site
SHAREPOINT HUB SITE
I know they look cool, elegant and well-structured but we need to wait till Q1 of 2018, Yes 2018 before we get a chance to play with it and that also for tenants which are on First Release.
However, it gives us an opportunity and time to plan for it. Some of the main features of a Hub Site is to provide us with a common Navigation, theme, logo and to easily move sites within the intranet from one department to another with the navigation, logo, etc all inherited automatically.
Hub Site will display all what is going on those sites in a stream for us to capture the required information and this can be somewhat customized OOTB from your Team Sites and Communication Sites.
– News Aggregation: All latest News will come up on Hub Homepage
– Site Activities: All combined Site Activities will roll up
–         Search: Now you can Search from the Hub Homepage and get results without going to individual sites as some of us are used to do. Content Discovery made easy 🙂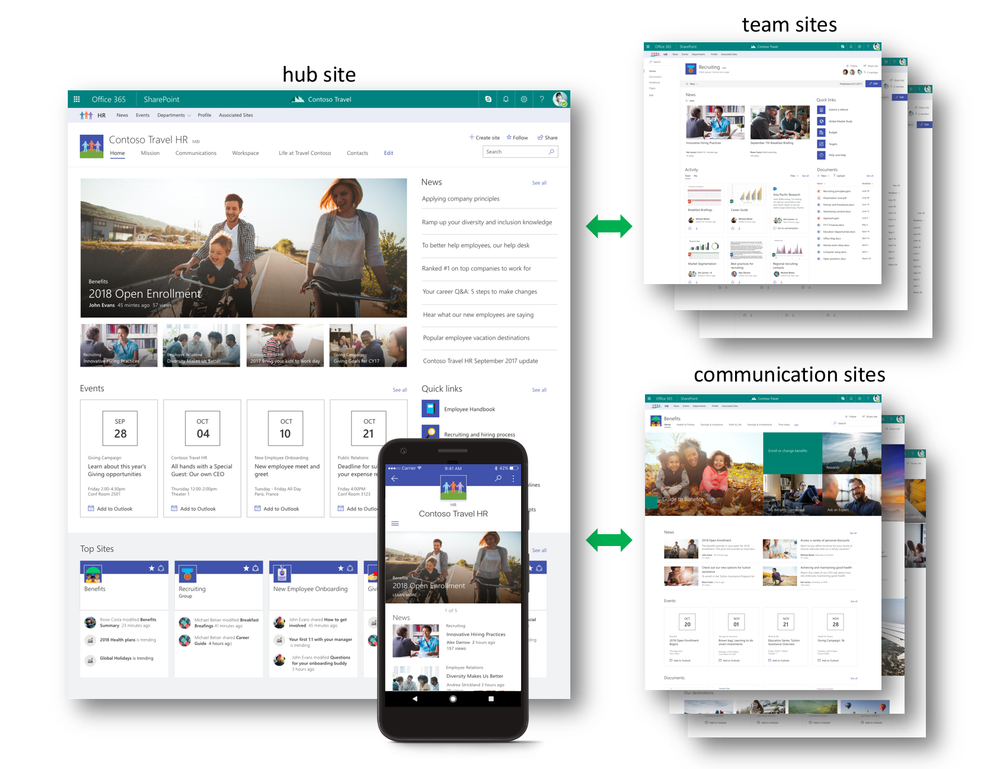 Remember hub site can be either like a team site or a communication site at its roots, and on top of that, it adds the common nav, cross-site search, consistent theme, plus news and activity roll up. Another important fact to remember is that at the moment you won't be able to join one hub site under another so you need to work your way with hub sites, communication sites, team sites, custom portal, etc.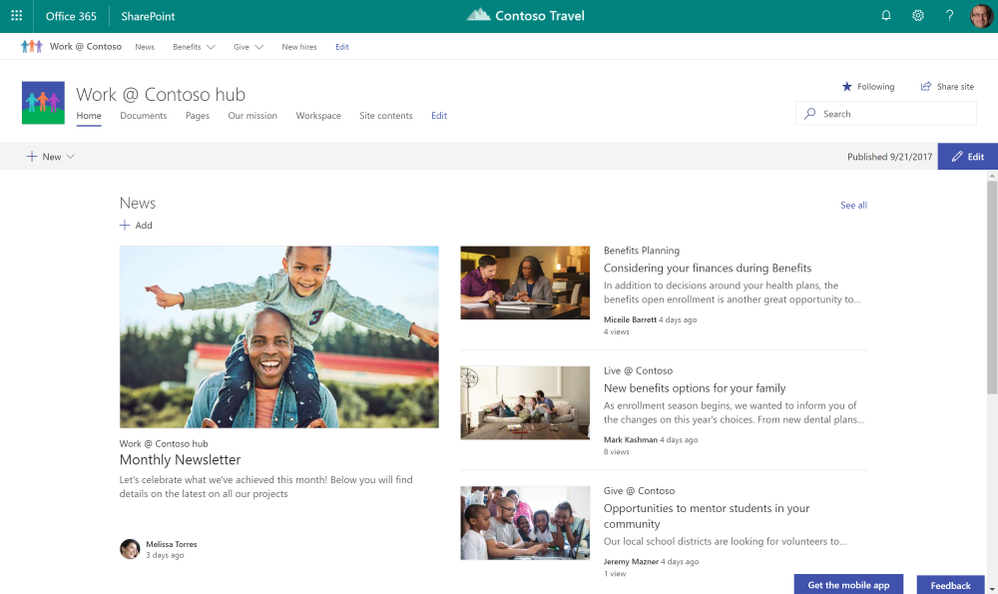 Just to summarize, a team site or communication site can be joined to only one hub site, it'll inherit the nav, theme, search scope and contribute back up the chain with news and activity rollup. That being said, the nav element does not require to only be populated with joined sites. You can have 100s of joined sites, of which only a handful may be showing for your desired outcome. And similarly, you can have nav elements at the hub site level that link to whatever you want them to (unjoined sites, documents, external sites/videos, etc.); aka, reference what you need. And a joined site can be joined and un'joined in seconds.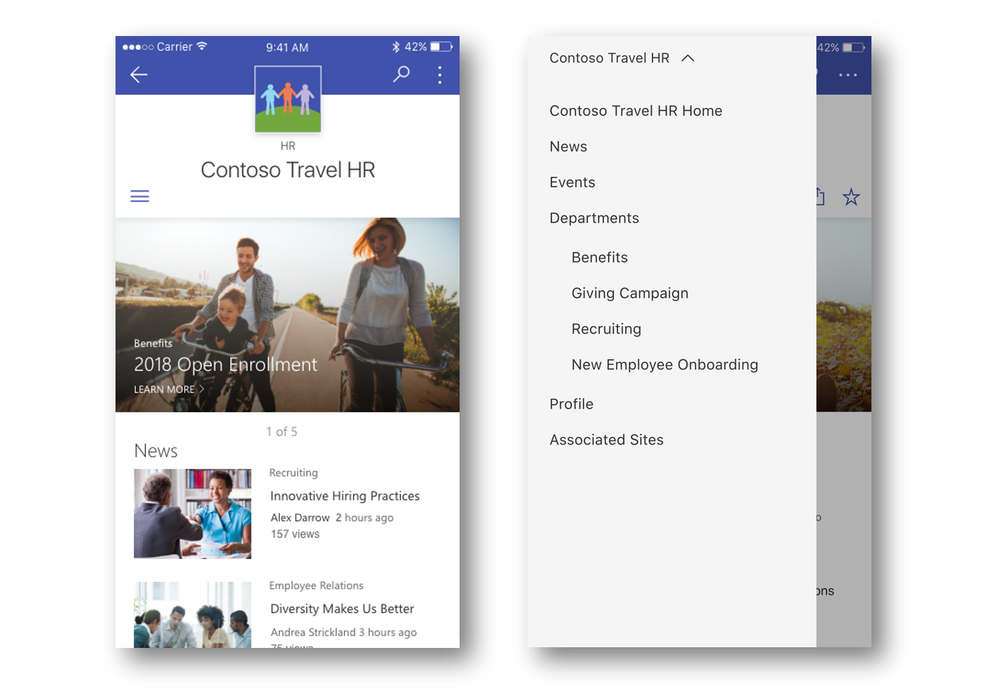 This feature will only be available for SharePoint Online / O 365 and most probably will be rolled out in SharePoint 2019 for on premise users.
SharePoint Admin Center
This is something which everyone has been waiting for a long time because the current Admin Center is just OK to work with and lacks a lot of common features. Though it brings in some nice features, I am still not convinced that the new Admin Center will answer all what Admins need to know. We will be required to switch back and forth, yes you heard me right – switch to old version of Admin Portal to see a list of features and then switch to new one for the missing.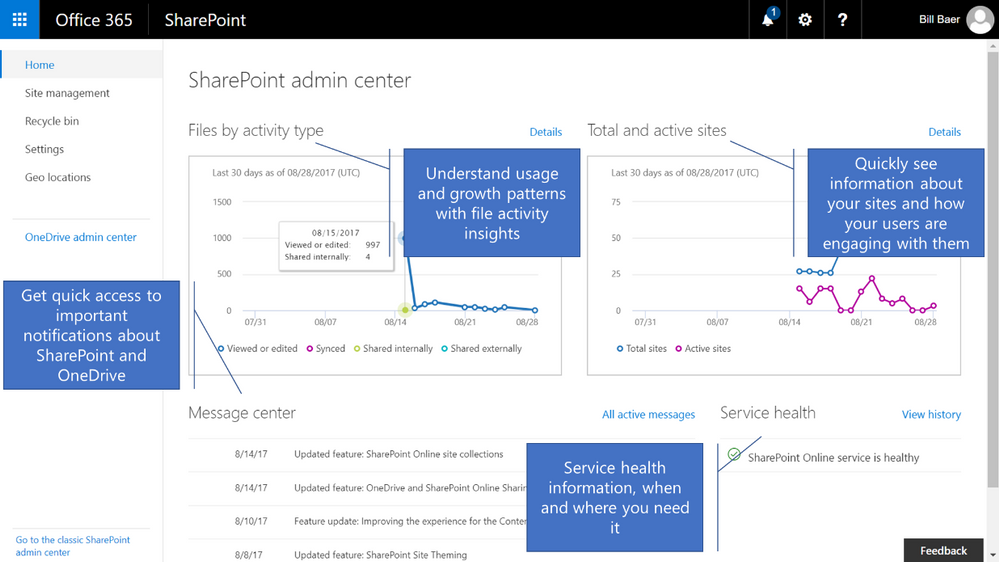 Things which I would have loved to see were if its going to show ay Site Collections created through Microsoft Teams? I am still in two minds as to how the Search and User Profiles can be monitored or at least kept in check? Anyways, again we got some time to plan and prepare ourselves until it's released in early 2018.
You can register for an early preview: HERE
​
Below images sum up the Site Management, Recycle Bin, Sharing and Device Access.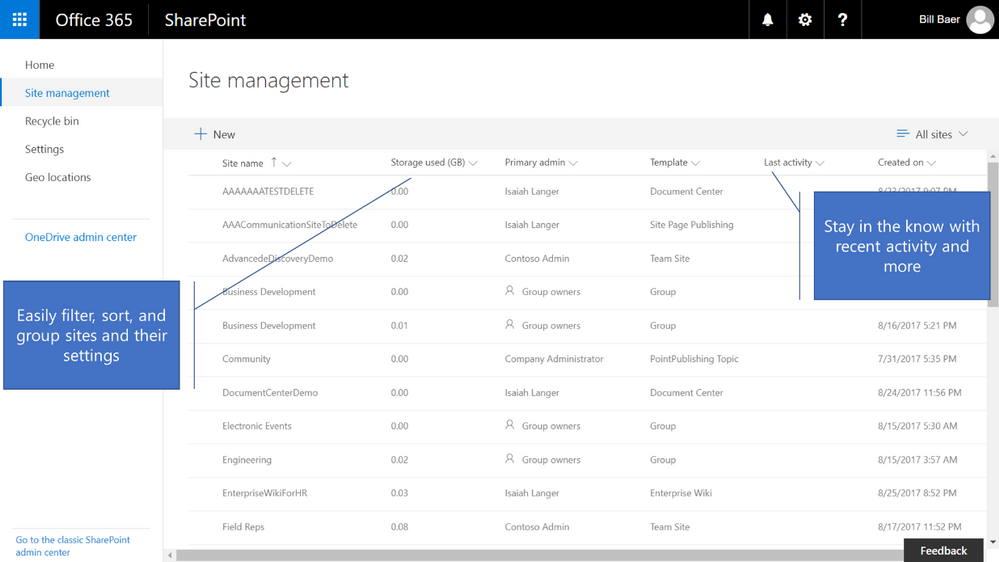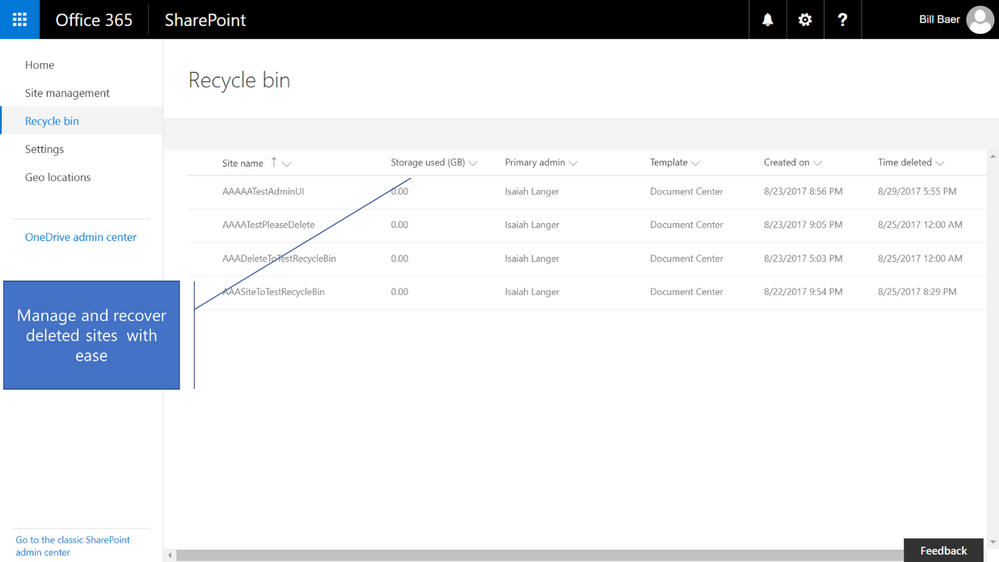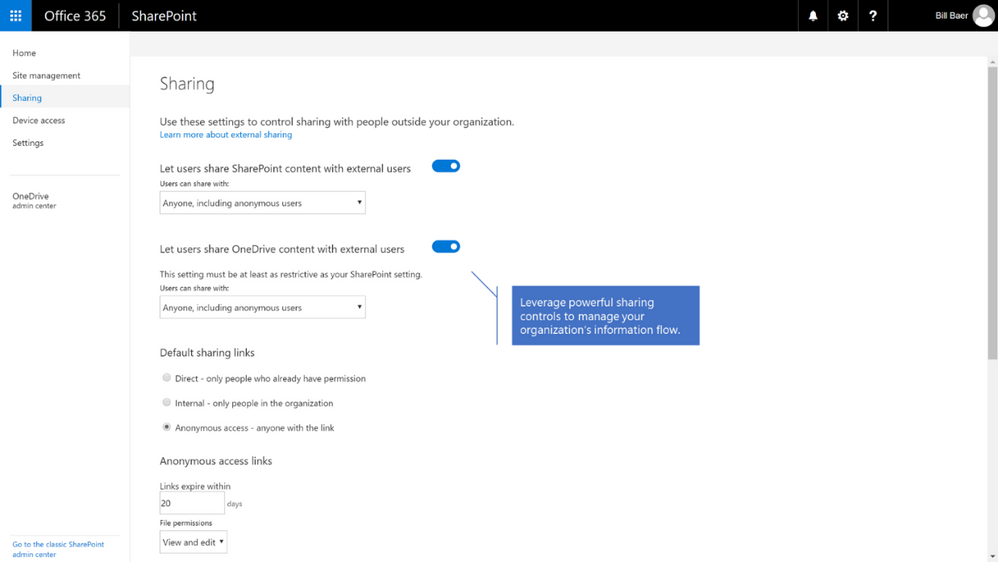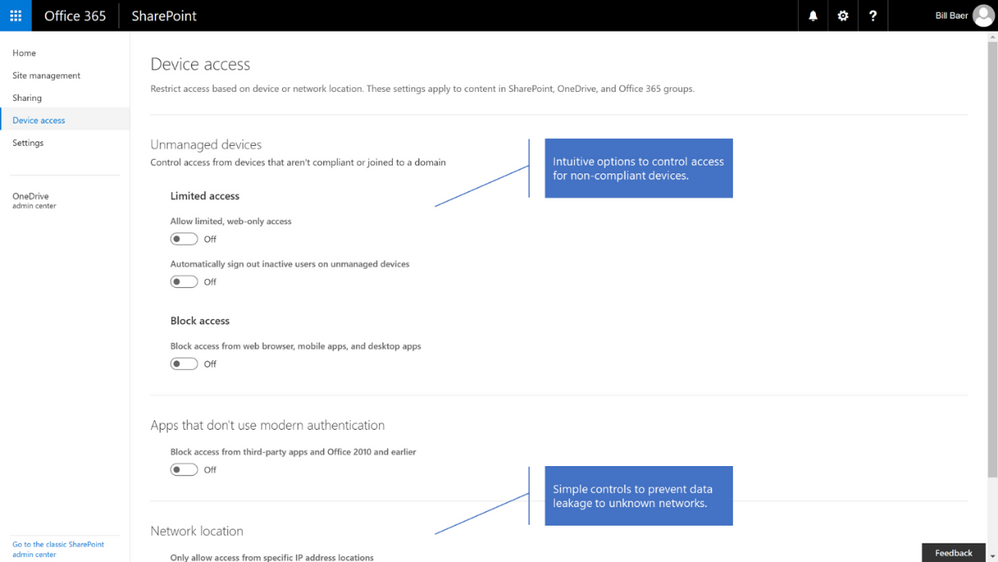 Web Parts
Web Parts
Microsoft Ignite did bring in some cool features to SharePoint webparts to enhance the UX and make our life easier.
– Document Library: Now you can embed your documents in team sites
– Group Calendar: Yes at last we have a Group Calendar but its only available under Modern Site
– File Preview: Supports 270 file types
– Yammer: The new web part follows the Fabric UI design language and I will do a separate post about it. Some very sneaky and interesting stuff.
– Forms: Now Microsoft Forms can be integrated with Modern Team Site
– Connector: You can now display external services like Twiter and feeds in Team Sites
– Divider: Just adds a separate line
I personally liked the Microsoft Forms feature the most due to the fact that it was released a month back First Release Tenants as preview. This will only be available to users of SharePoint Online and also note that the Data is not stored in a SharePoint list, in fact it is stored in a compliant, Azure database in the United States and Europe.
​
Below are some details which give you a brief of possibilities and enhancement.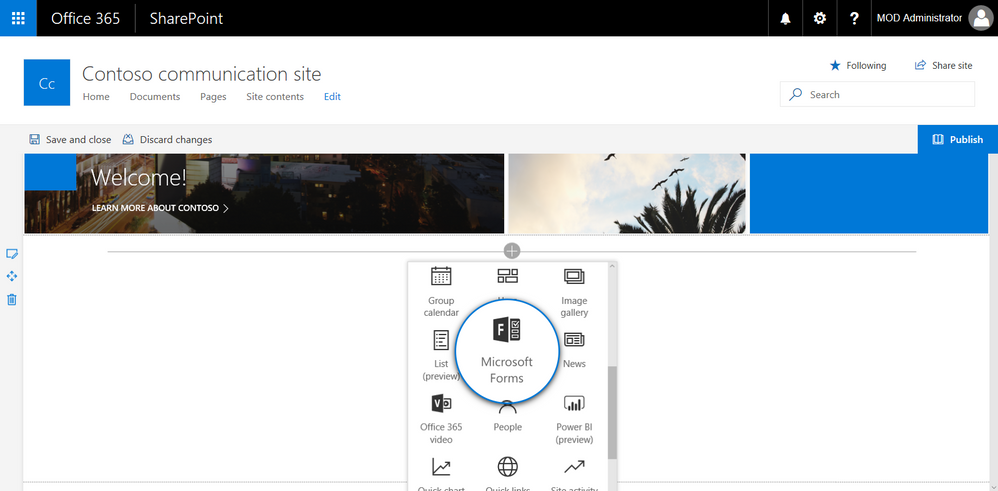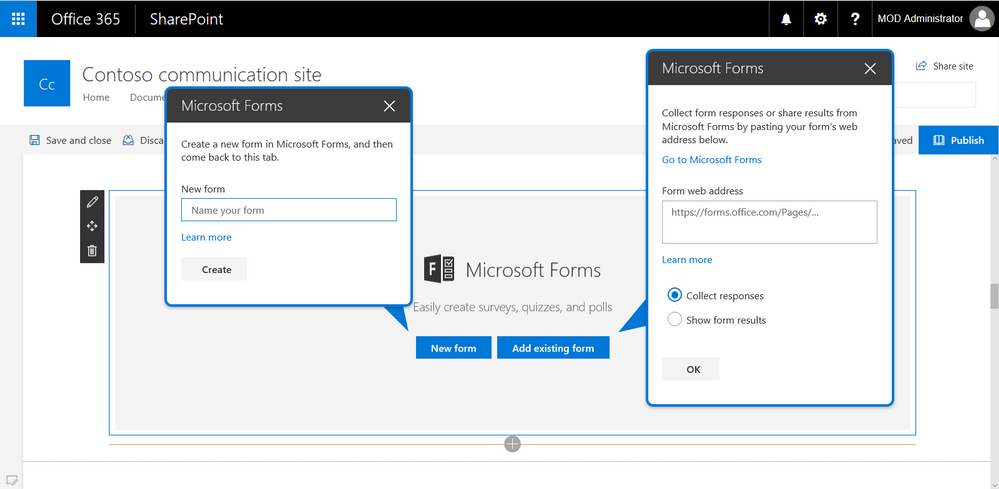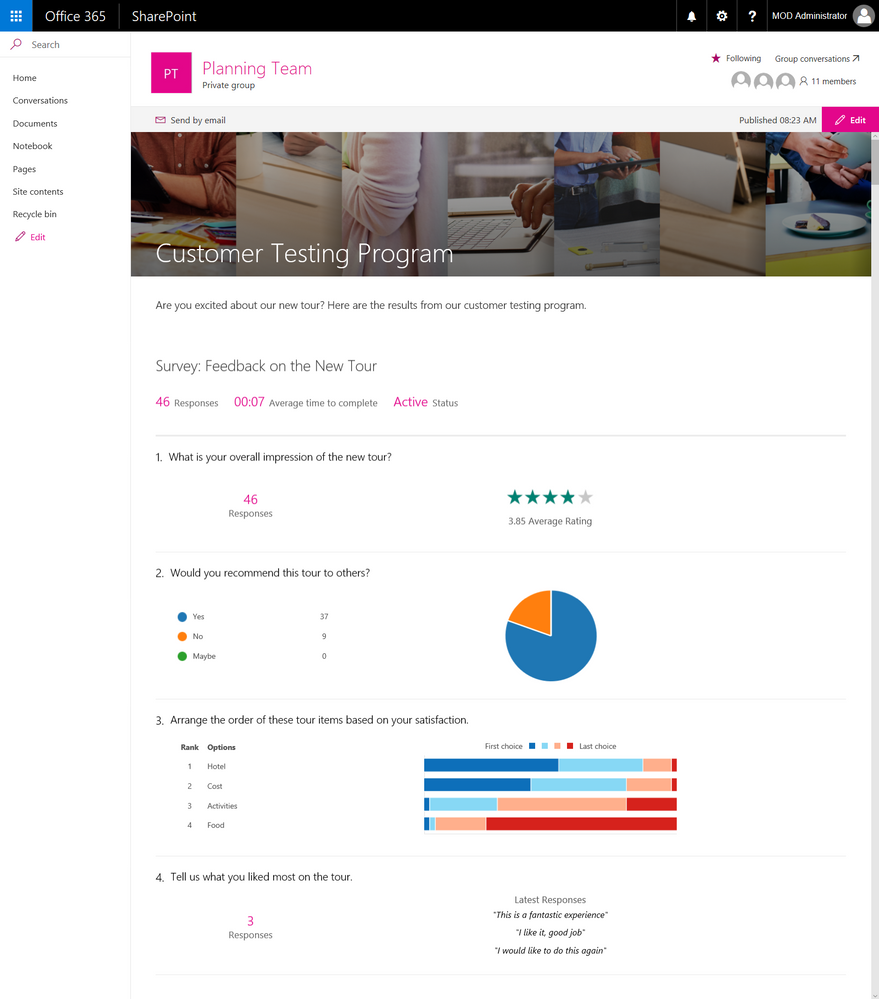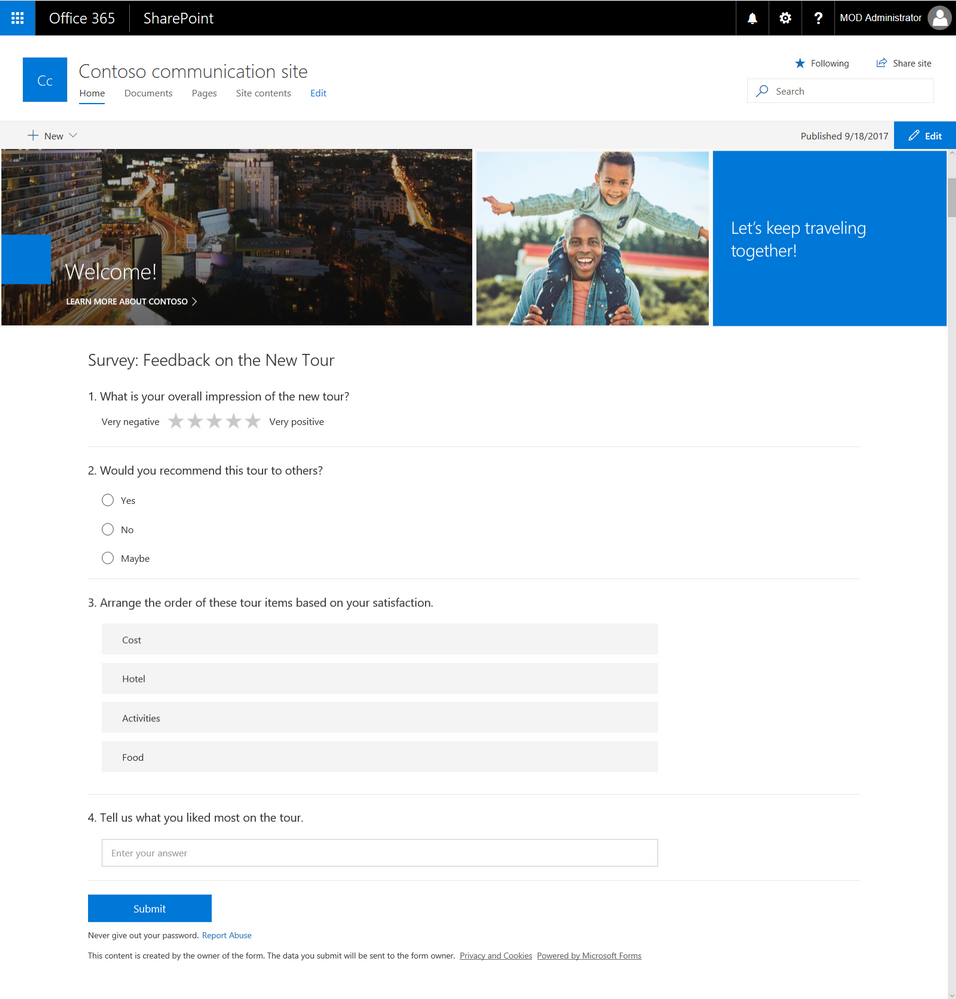 SharePoint Migration Tool
SharePoint Migration Tool
Much awaited and though third party organizations have already captured this market but still this tool gives quite a good start to migrate to the Cloud. The migration initiator must be both a Tenant Admin and Site Collection Admin on the source. Currently it supports only SharePoint 2013 on Prem migration so don't try SharePoint 2010. Some quick facts about the migrated files are:
– Your Timestamps remain intact
– MFA support is also supported but you need to do the following for it to work:
To enable it, you can set registry (0.2.60.0 and after):
[HKEY_LOCAL_MACHINE\SOFTWARE\Microsoft\MigrationTool]
"ADALAuthenticationEnabled"=dword:00000001
Remember if you are migrating a Documents library from a SharePoint site and get an Invalid Credentials error then you need to make sure that the onprem user is site admin for the onprem document library migration.
Here is the Getting Started Guide
You can download the SharePoint Migration Tool from here
​
Some screenshots which tell the whole story of how simple it is to use: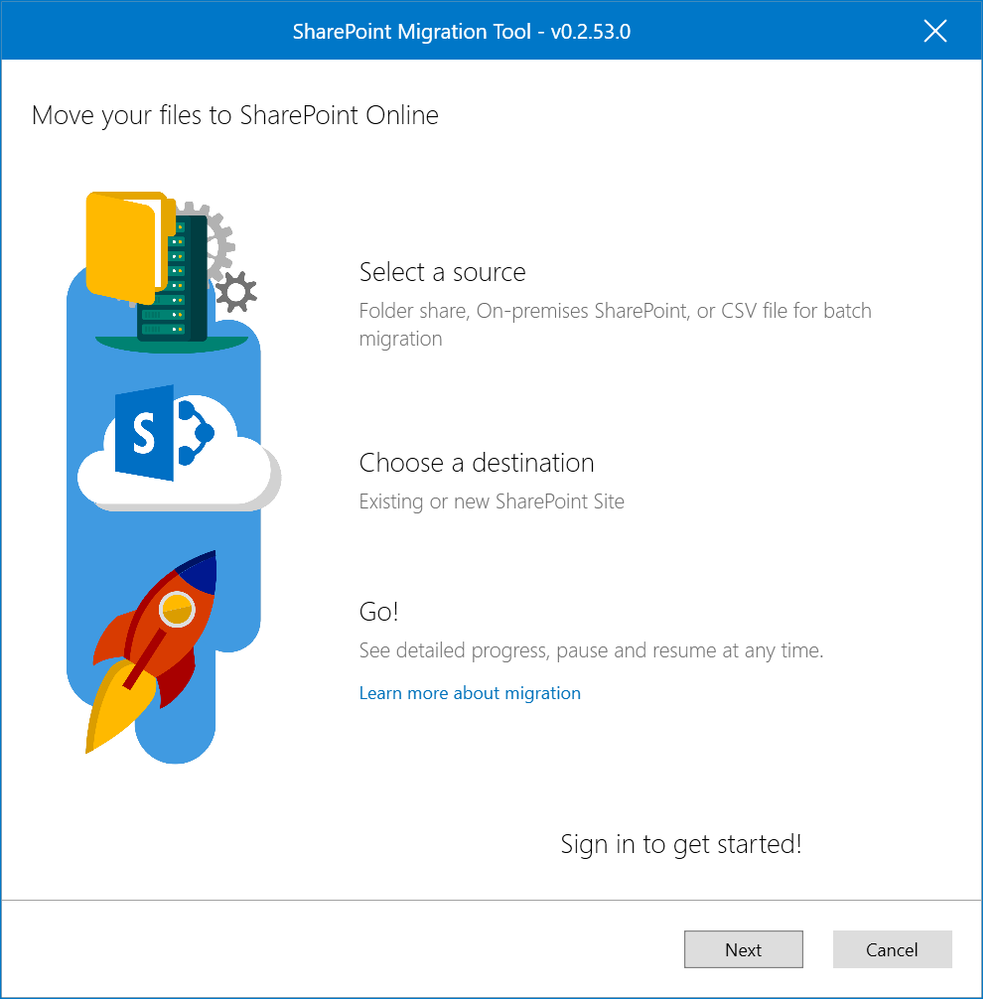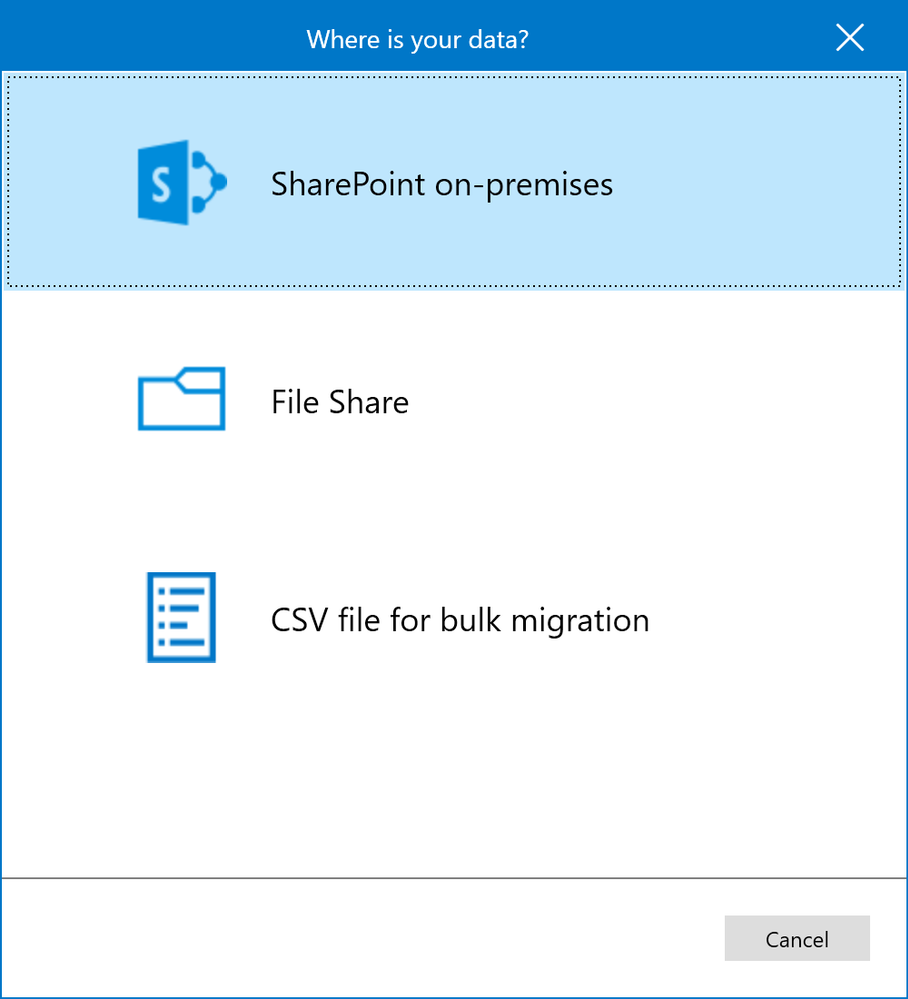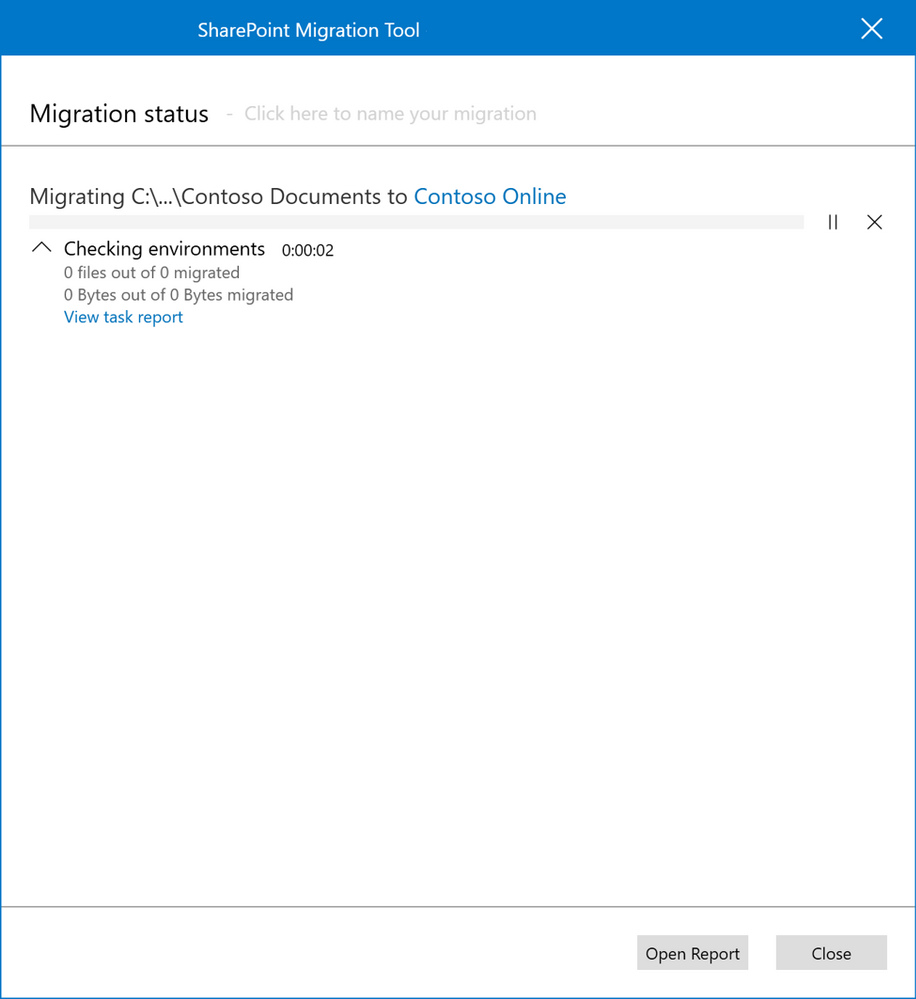 SharePoint Analytics
SharePoint Analytics
Again Microsoft is pretty late to the party and mostly its partners have already captured this domain but you never know what more they have planned until its time to play.
Everyone wants to get some analytics now adays and Microsoft SharePoint will be giving you just that. In the coming days you will be able to track the usage of Sites and Pages with some common feature set. You will be able to get the following with Modern experience:
​
Most viewed – site level
Most unique viewers – site level
Trending content – site level
Historical views – site level
Number of comments – page level
Number of likes – page level
Number of views – page level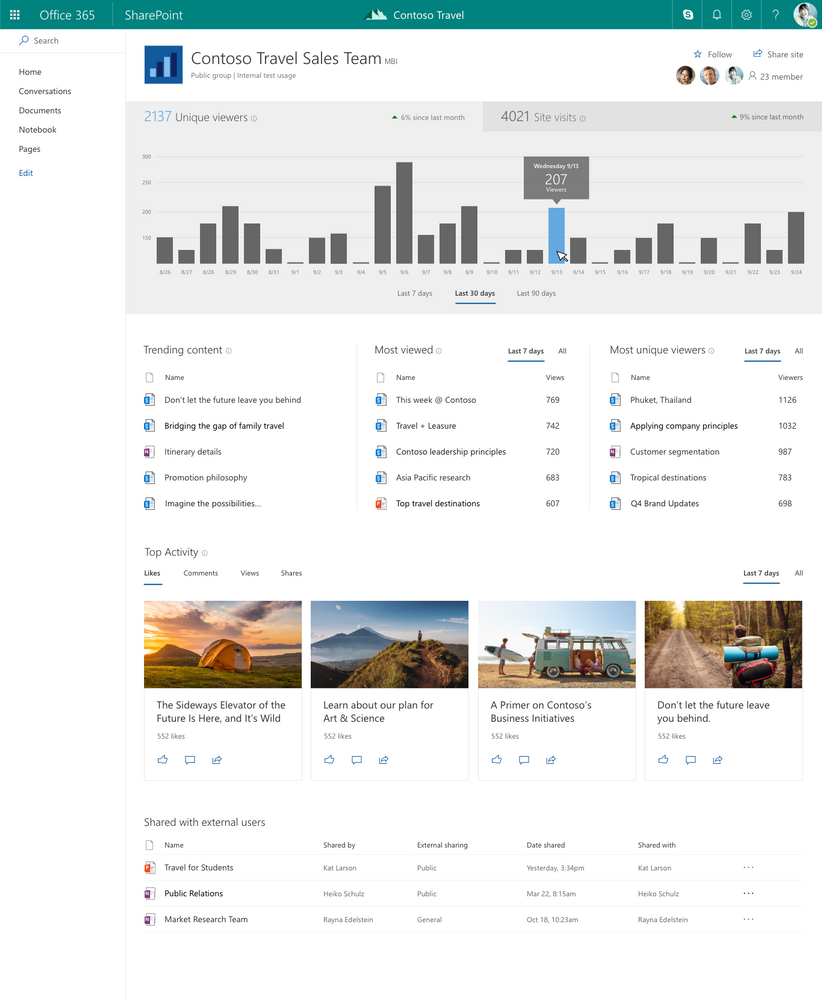 What Else
Well there is plenty more which can be shared with y'all which includes SharePoint Mobile App, SharePoint and Team Sites, Team Sites and Groups, etc. I will stop here and let you guys explore the possibilities of what next is coming in 2018 and SharePoint 2019 is already announced so I guess a lot more is anticipated from that release 🙂