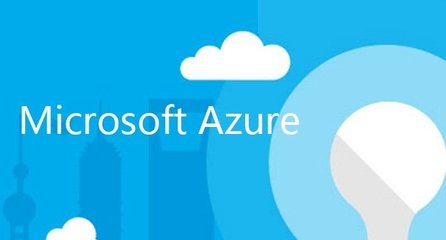 We are living in an era of Cloud Computing and though everyone seems to talk about it, very few seem to understand what it really is and how quickly its transforming development of Business Application. Guys like me on the other hand seem to me a bit more relaxed putting apps on Cloud, mostly Microsoft Azure due to its ease and way to get things done. The one thing which I really like is, Microsoft is building it rapidly and adding new features so fast that it's a bit of a pain at times. Ahh welcome to the life of Technology Enthusiast – in this case Cloud Architect.
So most of us have developed some sort of Application on Microsoft Azure but the most challenging task has always been to make sure that the underlying resources are setup correctly and being used optimally. Now this would be much easier, thanks to Microsoft Azure Advisor which is now available in Public Preview which is a really cool recommendation engine that provides proactive Best Practices guidelines for configuring your Azure resources.
​
Azure Advisor analyzes your resource configuration and usage statistics to detect any risks or potential issues. It then gives you Azure best practices on recommended solutions that will reduce cost and improve the security, performance, and reliability of the applications. So let's have a quick look at it and remember that this is just what is in preview – this will definitely improve a lot and already a lot of people have send some great feedback.
AZURE ADVISOR RECOMMENDATIONS
Once you are in the Azure Portal >>> Select your Subscription and then click on Get Recommendations button. The magic will start, and it will show you a list of recommendations, but this hugely depends on the resources provisioned in your subscription. ​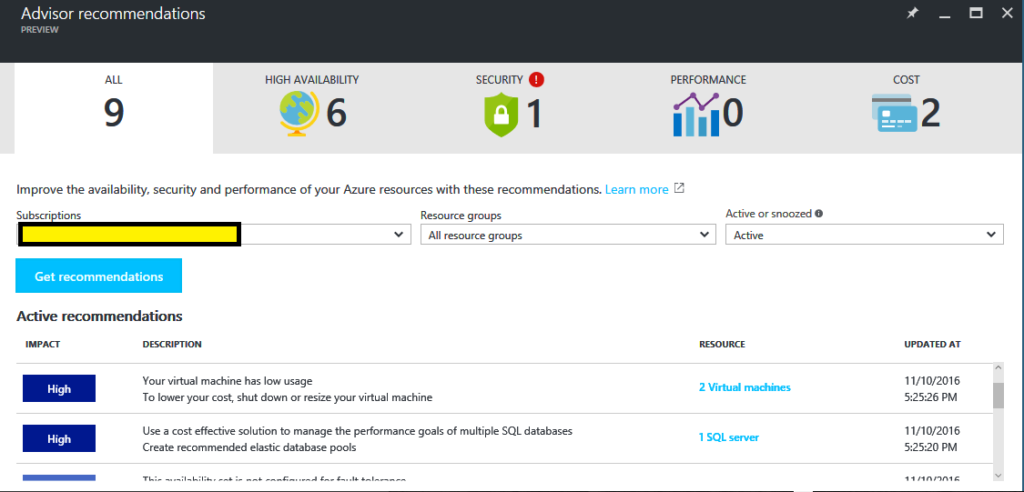 You have the option to filter recommendations by resource group and see the business impact and you can also view the recommendations based on category.
​
Categories
High Availability: To inspect your resource configurations and provide recommendations that improve the availability of your application.
Cost: It will look at your resource utilization and suggest ways to save money 🙂
Performance: Every Azure service usually has its own set of performance optimization recommendations.
Security: Azure Advisor integrates with Azure Security Center to show you the security related recommendations, so you have a unified Azure recommendation experience.
The best part is that not only it provides recommendations but it also provides suggested actions for each recommendation with a step by step walkthrough for implementing the fixes.
​
For guys like me who manage Azure and play with it on a daily basis, it makes our life a bit easier and its quite a convenient way to click through with the help of a step-by-step guide and implement recommendations. In case you don't want to take any action and would like to delay, choose the Snooze option for a period. (Yup the same Snooze button – early morning Alarm) Of course you also have the option of pressing Dismiss. (Select Snooze and select "Never")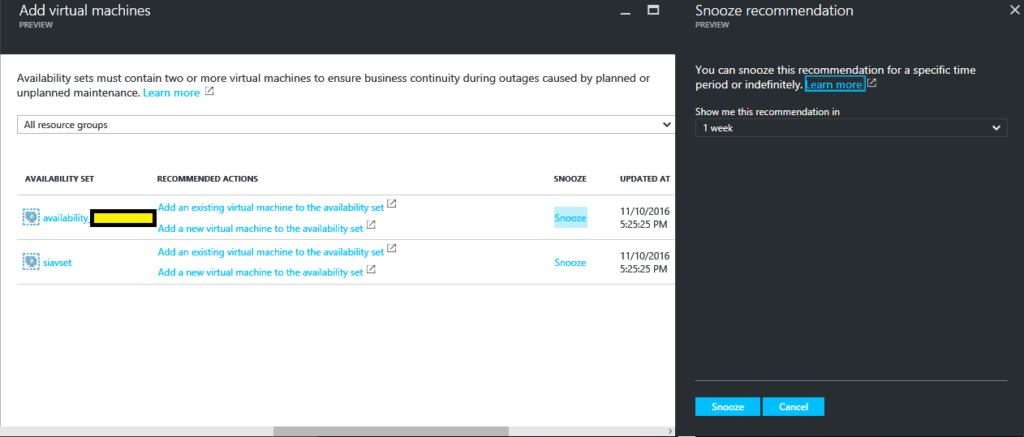 So now we got a personalized Microsoft Azure Advisor with best practices recommendation engine.